Here are a few words from people who have trained and played with us here at Beach Volleyball Thailand, who have become friends for life ...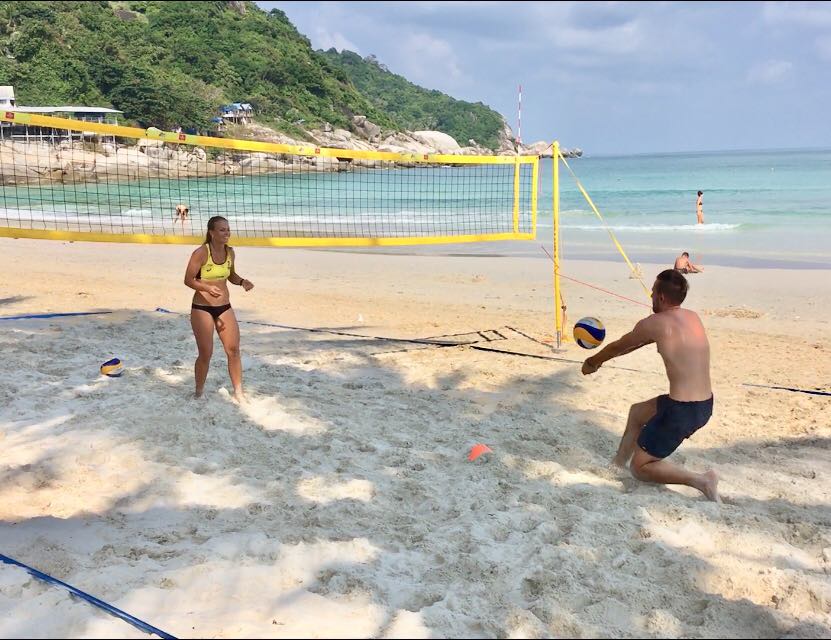 "BVT was a great experience and incredibly helpful for my beach volleyball skills.
The 5 days were packed with drills, open plays and talks about mental strategies. Through the sessions I was able to improve my skills and my mindset. Charlie and Katie are doing a great job and I would highly recommend signing up for the training session and join as much open plays as you can. Also, you play at the most beautiful beach in Koh Phangan! Our third instructor Elena was incredible as well. She taught me many techniques to improve my game-sense and her training drills had just the perfect intensity. Thank you, guys, for a great experience and you can be sure I will come back! Best from Germany!" - Hannes Schaletzky (Germany)
Completed Training 16-20th Jan 2019
"Great beach volleyball program!
I took part in 5 day beach volleyball training program. It was well organised and in the court was in a beautiful location. Given beach volleyball tips really helped to improve my game. Furthermore, the uniqueness of this program that it considers other sides of beach volleyball: emotional, mental and physical. All of these components are vital parts for person who wants to become a good beach volleyball player. Charlie was a great and insightful coach! In addition, he and Katie provided constructive feedback that improved my game. I would highly recommend to take part in this program for anyone who is interested in playing and training beach volleyball!" - Edvin Dudinskij (Lithuania)
Completed training 11th-15th August 2018
"Thank you so much for an amazing island experience - great volleyball, delicious food, wonderful experiences! I feel I did so much and had such a variety of things to do. Thank you for your generosity with your time and sharing your favorite places - it was more than just volleyball training." - Em Tak (Australian)
Completed training 11th-15th June 2018
"In June 2018 I was on Koh Phangan for two weeks, and I was looking for fun activities to do while on the island. I stumbled across Charlie and Katie's volleyball training, and decided to sign up. I'm not a serious player, so I wasn't sure if I should sign up. I loved everything about it, and I'm glad I did. They were able to coach at my level, and my skills improved dramatically. I had a lot of fun playing, and it was great exercise. I also made new friends, and connected with people through volleyball that lead to other fun activities while on my holiday. With my new skills I'm excited to get involved in a league at home. I highly recommended this program. " - Steve Dunford (Chicago, IL)
Completed training 18th-22nd June 2018
"I have visited koh Phangan a few times. I love the food, beaches, bohemian lifestyle, snorkeling, and I could list lots more. The last time I was there I participated in a workshop offered by BVT. It was the highlight of the trip. The training was personal, fun, and very challenging. I walked away being a much better player. I would recommend this training course to anybody at any level that wants to get better. Thanks BVT for making this available." - John Bradford (American)
Completed training 5th-9th Feb 2018
"I have been playing indoor volleyball for 12 years, never thought I would transition to being a beach volleyball player. BVT has helped me come to realize that beach volleyball is for everyone indoor and outdoor players, it's competitive, thrilling and above all fun to learn." - David Vin (Cambodian)
Completed training 14th-18th May 2018
"BVT is a great, friendly and fun beach volleyball community on Koh Phangan run by awesome people. Games at various locations around the island are always fun and competitive. The best is at full moon party beach Had Rin & Coco hut resort. Whatever your level is, you always find a new friend for life here while enjoying a great game of beach volley" - Martin Suchy (Slovakia/ Australia), local player.